Paris, November 25, 2015. On the eve of regional elections, AFRA (l'Association française du rail) commissioned ELABE, a polling and market research firm, to poll a representative sample of the French population (outside the Paris Metropolitan area and Corsica) of 2007 people. The poll was carried out from October 26 to November 2, 2015. Its purpose was to find out more about the French public's perceptions and expectations of passenger services by train, both nationally and in their regions.
BOTH THE QUANTITY AND QUALITY OF PASSENGER SERVICES BY TRAIN WERE JUDGED DIFFERENTLY FROM ONE REGION TO THE NEXT.
64% of those polled are satisfied with the quantity and quality of services at national level, a score close to the 60% recorded in a previous poll commissioned by AFRA in 2011. However, there are much greater differences of opinion when it comes to the quantity and quality of services within each region: 54% of respondents say they are satisfied with regional services, 10 points less than at national level. 45% say they are not satisfied.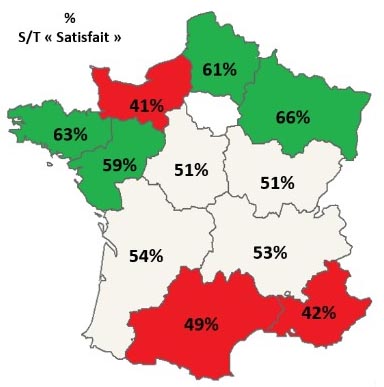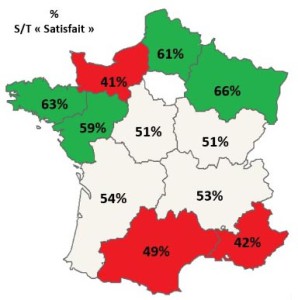 Moreover, results differ markedly from region to region.The highest scores were recorded in Alsace-Lorraine-Champagne-Ardennes (66%), in Brittany (63%), in Nord-Pas-de-Calais-Picardie (61%) and in Pays-de-Loire (59%).
By contrast, the number of satisfied respondents is below 50% in Normandy (41%), in Provence-Alpes-Côte-D'azur (42%) and in Languedoc-Roussillon-Midi-Pyrénées.
This positive attitude towards market liberalisation for passenger services by TER, Intercity or night trains is also true at the level of each region in France: 78% consider it would be either "a good thing" or "a very good thing" (34%) for their region.
Asked whether they think there will be an improvement in the quantity and quality of services, in their region, over the next five years, the French are pessimistic in the absence of any foreseeable change to the passenger services on offer. 39% consider there will be no change, 32% consider that the situation will get worse and only 26% think it will improve.
LIBERALISATION OF THE MARKET FOR PASSENGER SERVICES BY TRAIN: AWARENESS AND FAVOURABLE OPINIONS UP SUBSTANTIALLY SINCE 2011.
66% of those questioned say that they have already heard about the liberalisation of the market for passenger transport by train for international services departing from or arriving in France, a considerable increase compared to the survey commissioned by AFRA in 2011 (49%).
The percentage of respondents in favour of market liberalisation for international passenger train services has increased considerably in four years, from 70% in 2011 to 81% this year. 33% consider that it is "a very good thing".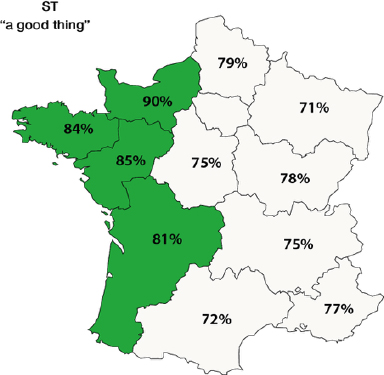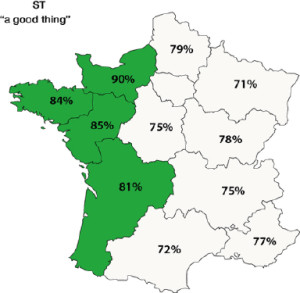 On this point, the four Western regions of France have much higher scores than the national average :
Normandy (90%),
Les Pays-de-Loire (85%),
Brittany (84%)
The large region Aquitaine-Limousin-Poitou-Charentes (81%).
At the same time, the French public has numerous expectations of future passenger services on TER or Intercity trains within their region. A large majority of respondents want improvements in reliability (75%), lower ticket prices (72%), more local services (67%), higher levels of passenger security on trains (65%) and greater consideration for passengers' needs and expectations.
Market liberalisation of passenger services in TER and Intercity trains is considered to be a potentially promising development in respect of most of these expectations. A majority of respondents think that it would mean lower ticket prices (82%) new on-board services (78%), more consideration for passenger needs and expectations (76%), more local services (72%) and greater reliability (71%).
In line with these expectations, 78% of respondents consider that the regional executive, which plans and finances the TER train services in their region, should be able to chose its operator, as is already the case in other countries like Germany. This is a majority view in all categories of the population.
53% OF THE FRENCH PUBLIC CONSIDER THAT MARKET LIBERALISATION OF PASSENGER SERVICES IN TER OR INTERCITY TRAINS WILL HAVE MORE ADVANTAGES THAN DRAWBACKS. ONLY 20% DO NOT AGREE AND 27% CONSIDER THAT IT WILL MAKE LITTLE DIFFERENCE.
72% consider that the market for passenger services by TER or Intercity trains in their region should be open to other operators than the SNCF.
When asked "whom do you most trust to improve the following?", operators or companies in the private sector recorded largely positive scores on a wide range of issues : ticket prices (+31), providing new on-board services (+23), strikes and industrial action (+22), reliability (+19), taking account of passengers' needs and expectations (+16), general level of comfort on board trains (+10). On the other issues tested, there was less of a gap between SNCF and operators or companies in the private sector, a majority of respondents answering the questions by "operators or companies in the private sector" or "both".
The prospect of market liberalisation for passenger services in TER, Intercity or night trains is also seen favourably by a majority of respondents, considerably more than in 2011: 79% of respondents say that it would be a "very good thing" (34%) or a "good thing" (45%), an increase of 9% in 4 years.
Télécharger le pdf : ici